Born May 20, 2009, Baloo is a sable blue standard poodle, meaning that as an adult he is a warm, subtle black with silver threads and silver tips when his fur gets long. As a puppy, he was striking with a black head, silvery body, and completely white tail: an astonishing colour combo. Then and now, he always draws compliments wherever we go, even from unexpected sources. I remember once walking past a local Montreal gas station and was astonished by the cashier running out of her little hut to yell after me, "Madame, vous avez un maudit de beau chien!!" or "you have a damned fine dog!!" Love her enthusiasm!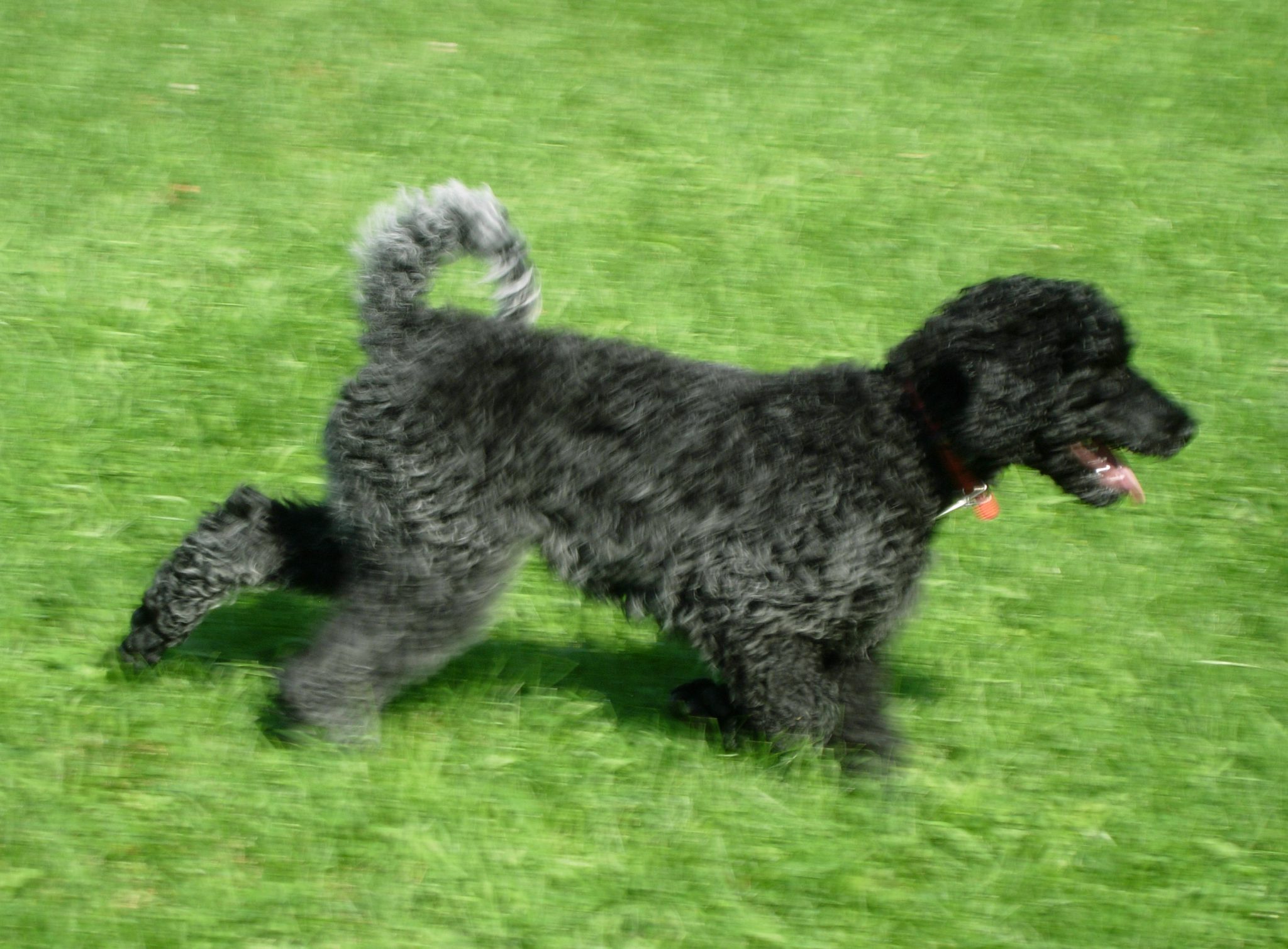 Slim and athletic, Baloo is wonderfully healthy and very active. I've yet to see him fully tired out, no matter how long the walk or the run beside the bike (along Montreal's standalone bike paths, fabulous!) or the blading adventure with his friend John. Baloo has no difficulty staying alongside, an effortless elegance to his pace. Despite the challenges to my over-busy, middle-aging self, I love how energetic he is. He's very fast and can outrun just about dog in the park. And he can fly. Truly! After doing a few big circles around me (we're walking in an off-leash park, obviously), he'll come in close and go sailing by at shoulder/ear level, exhaling a very gentle "wuuuf" as he soars by me.
To make use of Baloo's great energy, we've tried agility and flyball, but neither seems like quite the right activity for us. Baloo keeps his focus on me (good) and doesn't seem to understand to play the game forward, that is, go for the next piece of equipment, the ball, etc. (not so good). However, he DOES love to play on the agility apparatus when he's not being asked to follow a course! I've decided that instead of games, we'll use our time together for long walks in the woods in and around Montreal — to the fabulous Arboretum on the west island and the Summit Park on the top of Westmount. That, we both love and can completely figure out how to do!
Baloo travels with me regularly to Toronto, occasionally to Ottawa, Muskoka and the Bas-St-Laurent, and once in a while to Nova Scotia.
Baloo is a very sweet boy and extremely oriented to me. He's friendly and playful with people he knows well, loves their attention and pats, and is a little shy around some strangers — true even when he was a wee guy. I can't imagine life without him.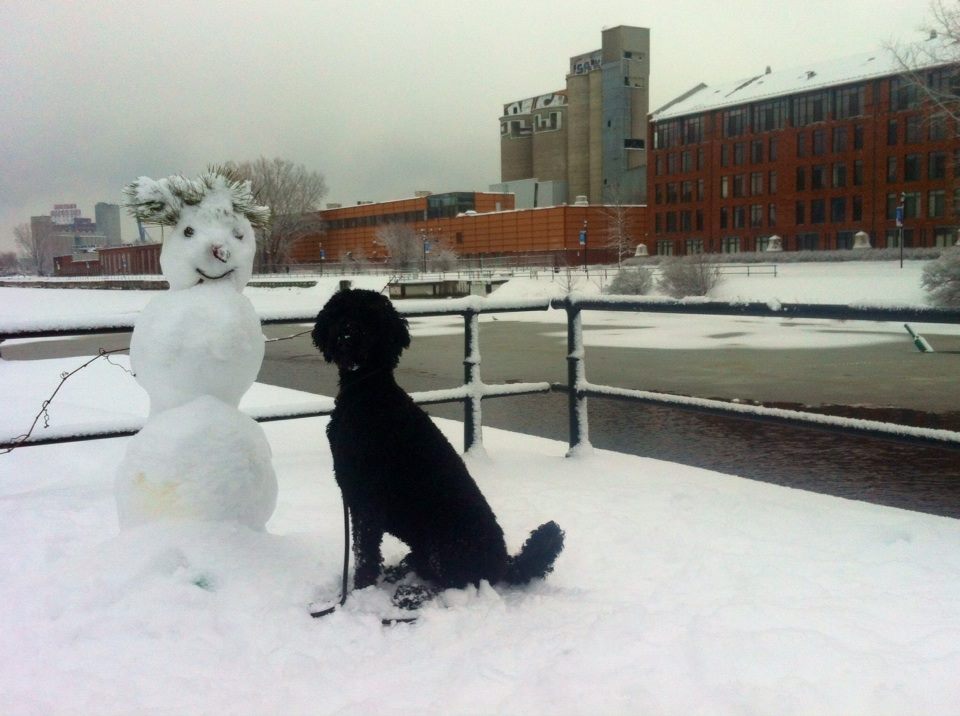 Life with Baloo continues to influence my artwork and research. In Made Flesh I've created a graphic novel featuring both Baloo and the ghost of Auggie. He also inspires (and appears in!) my textile walking maps of the urban woods and green spaces we enjoy together. These various projects give me the scope to explore love and loss, mourning and representation, and considerations of mobility, public space, urban planning, and the post-human in the city. And all at some level because of the endless possibilities of life with poodles!