We insist, it seems, on living. Then again, indifference descends. The roar of traffic, the passage of undifferentiated faces, this way and that way, drugs me into dreams; rubs features from faces. People might walk through me … We are only lightly covered with buttoned cloth; and beneath these pavements are shells, bones and silence.

— Virginia Woolf, The Waves
A cycle of works on canvas and linen, The Bog Series (1995-96) celebrates the life-death continuum and explores similarities and differences between our own contemporary literate culture and the oral ones of the "bog people" — individuals who mysteriously died in northern Europe's peat bogs about 2000 years ago. Exquisitely mummified by the acidic water of the bogs, these individuals are regularly unearthed by people cutting peat for fuel. No matter what our era, we all share a human physicality, of which the Bog Series reminds us with its organic textures and body colours. In addition to highly textural paint and wax, the Bog Series incorporates life-sized photo images of bog-mummified Iron Age figures, full-scale drawings from models, and textile elements. I hope these works will lead the viewer to muse upon the frailty of human life, the pleasures and terrors of being inside the bog, and the mysteries of living and dying within human communities so different from our own.
The Bog Series came into being as the result of a happy accident. One night in the library, my glance strayed to a book called The Bog People by Danish archeologist P.V. Glob. Who couldn't be intrigued? The accompanying photos by Lennart Larsen and others were remarkable, beautiful, extraordinarily moving. I was hooked, and began a substantial research project to find out who these people were — they were found not only in Denmark but in just about all Northern European countries — and how they came to be in bogs.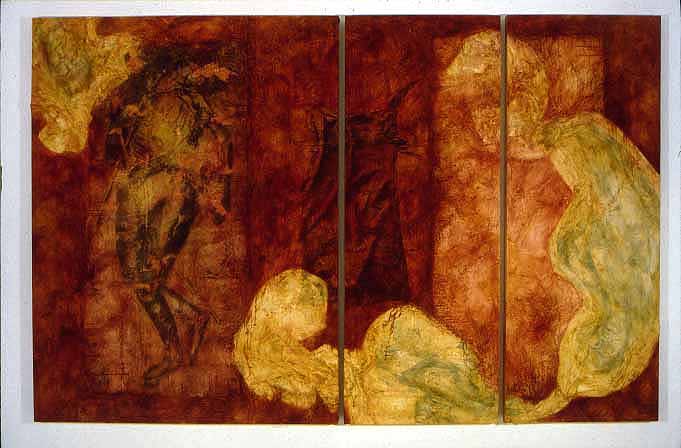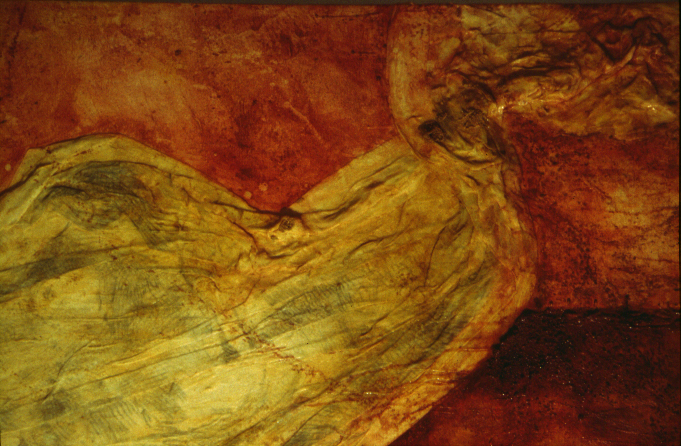 I was determined to use visual media to express my feelings and ideas about these individuals, but how? That was the primary challenge of this body of work. To complicate matters, I had to contend with a logistical difficulty, too. I had just a few months of access to the kind of darkroom I needed to create life-sized photo images of bog bodies. And that meant I had to make the photo-components of my proposed series before having the chance to figure out how I was going to use them.
This imperative proved a blessing in disguise. I made my photos on faith. And one-by-one I came to understand how to use them, the kind of drawing that would accompany each, the particular textile element that would amplify the developing meaning of each work. In other words, this series taught me real trust in my own intuitive working process.
The series includes five large pieces (each about 6 feet by about 9 feet in multiple panels) and eight small pieces of varying sizes. Among the latter is Bog Fragment 7: The Touch of You, the piece that incorporates the red hand that has become the visual signature of redhanded.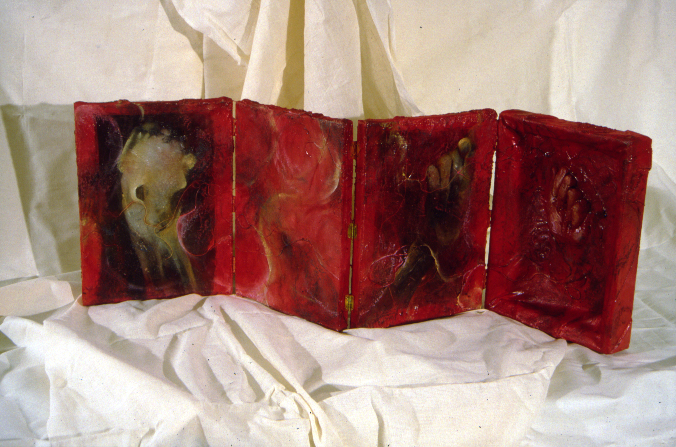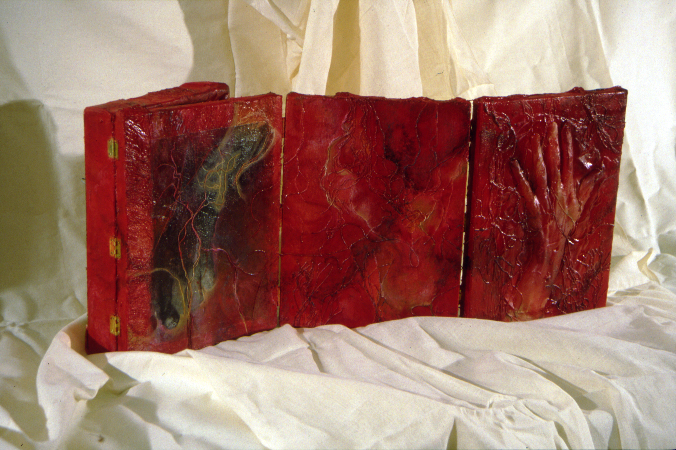 The full Bog Series was shown in connection with the international archeological exhibition, The Mysterious Bog People, in Gatineau, Quebec (2003) and Assen, Netherlands (2004), where I attended the openings and conducted master classes.
Shortly after returning from the exhibition in the Netherlands, I had the great pleasure of being interviewed about this work by Shelagh Rogers on CBC Radio One's Sounds Like Canada. Here is the interview:
Selected works from the series were exhibited in Toronto at the Here and Now Gallery (1998) and the Rivoli Bar and Café (1998). Bog Series 3 is in the collection of Seneca College, Markham campus.