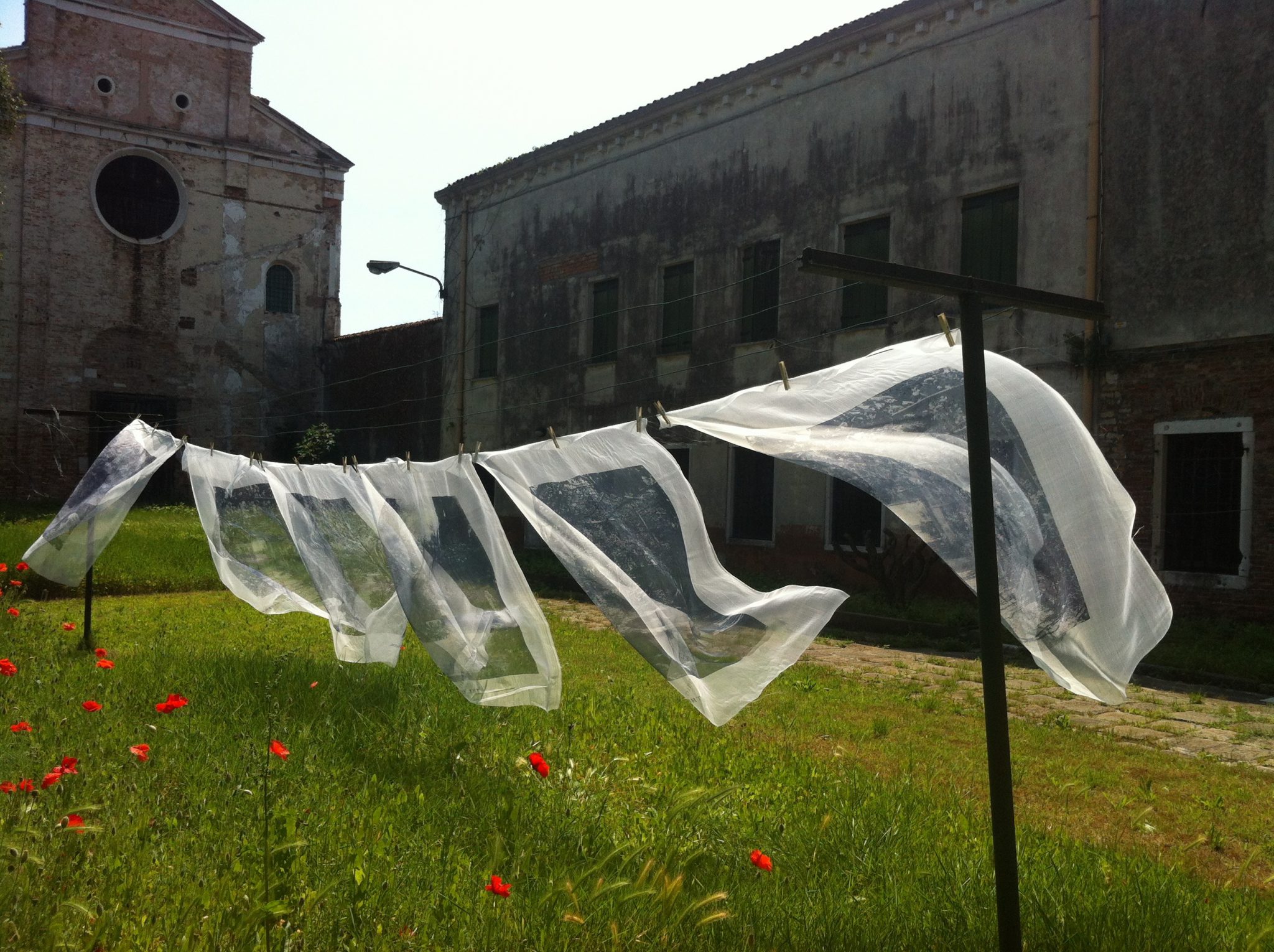 Giardino dell'Eden is an ongoing, multidisciplinary artistic collaboration with Cynthia Hammond and Kelly Thompson, using sensory engagement, digital images and imagination to explore the meanings and metaphoric potential of Venice's lost 'Garden of Eden.' The story fascinates us: on the post-industrial island of Giudecca, the Garden was created in 1884 by English ex-patriate Frederic Eden and his wife, Caroline (sister to the landscape designer, Gertrude Jekyll). Their British country garden style oasis of lilies, willows and roses was not well suited to the Venetian heat and salt air. In the 20th century, the Garden passed through the hands of lesser European royalty (Princess Aspasia Manos of Greece, Queen Alexandra of Yugoslavia), British tycoons (Sir James Horlick) and the eccentric Austrian artist Freidensreich Hundertwasser. His idea of gardening was to let nature reclaim what had been cultivated and tilled. Since Hundertwasser's death in 2000, the Garden has been managed by his Foundation and the site locked away from view. Our e-mails to the Foundation have received cordial responses of regret that it will not be possible for us to visit the giardino. The largest private garden in Venice is now accessible only through archival photographs and texts, literary tales of gay cruising and high society romance, and transgressive acts of guerrilla photography. But perhaps it is appropriate that a garden of Eden be lost.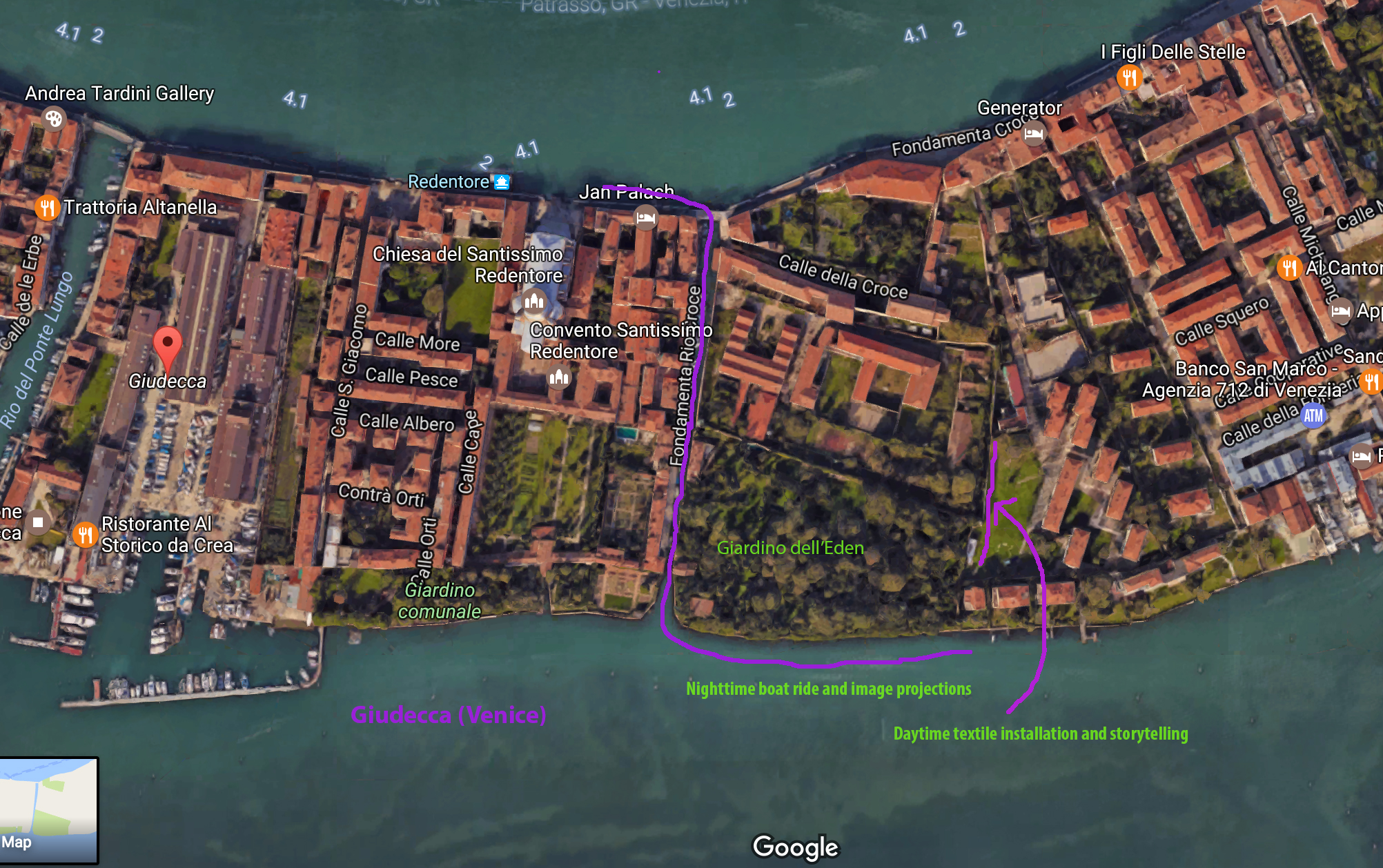 In an act of imaginative reconstitution in May 2017, Giardino dell'Eden featured a public intervention around the perimeter of the garden, which is accessible on three of four sides (two sides by water, one by land). We used rich sensory engagement to evoke the Garden's interior through installation, photography, projections, and mapping during two events, one during the day, the other at night. Our late afternoon event took place in the public greenspace to the east of the Garden, which is used by local residents as an informal dog park. Here, we hung our delicate organza prints of Eden-era photos of the Garden, and engaged with locals about their neighbourhood's hidden treasure. At night, we animated the Garden's waterside walls using a 'pocket projector' based in a slow moving boat. We recorded our projection of a montage of archival and contemporary photographs of our daytime events, all while conversing with local boatman Marco Bassi about the social pressures on Venice and locals' longings to access the Eden/Hundertwasser Garden. Our footage aims to suggest that a person can 'see' the Garden though through its obscuring walls. In the dark, the scent of salt water and sound of waves against walls, the projected sequences of ghostly images cascading over a roughhewn stone surface, created a prosthetic Garden of imagination and desire. In the interplay between the sensual and the digital, an imaginary Garden emerged.
The next stage of the project involves creating a short film based on our evening's footage.
More about Giardino dell'Eden can be found on our blog.
Giardino dell'Eden were developed with the financial support of the Centre for Sensory Studies at Concordia University and Studio XX,a bilingual feminist artist-run centre that supports technological experimentation, creation and critical reflection in media arts .